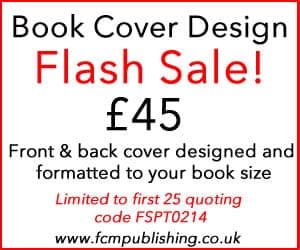 Flash Sale on Book Cover Design
 To take advantage of this offer please email admin@fcmpublishing.co.uk quoting the above code
One of our designers will then contact you to talk you through your ideas and create the perfect cover for your book.
We aim to make the process of becoming a published author as painless as possible, leaving you with all the excitement and pride that your hard work deserves.
Why turn your Blog into a Book?
Standing on a book puts you head and shoulders above your competitors
You have worked hard on your blog now let it work hard for you!  With some clever editing we can turn your blog into a book that will reflect your talent and expertise.  Books not only create an extra revenue stream but also give you credibility as an author and as an expert in your field.
 Blog to Book Publishing is the perfect way to become a published author.  Contact us today and we'll show you how you can create your own book, have it formatted for both e-book and printed copies  and market yourself as an expert.



Simply compose your story and paste it into the message box of the contact form below – you will then be taken to paypal to pay your entry fee
Competion Details 
Entry – £3 per story / multiple entries welcome/ 500 words or less / Topic - Happy | Inspirational | Funny / Prize - Winner £100 | 1st Runner up £50 | 2nd Runner up £25 / All entries will be included  in  flash fiction anthology / Judges - To be confirmed / Deadline for entries - 31st March 2014